This machine suit to produce T-shirt bag,garbage bag,flat open bag,patch bag.
1.Plastic bag machine is suitable for high density polyethylene (HDPE), the low density gathers alkene (LDPE) plastic film material.which is produces the plastic film to flat bag,
2. the performance of Plastic bag making machine is stable, the back cover is reliable, is the large, medium and small processed foods enterprise is most economical appropriately, bag sealing&cutting system equipment.
3.plastic bag machine control by computer and PLC,with photo cell,can produce printed and unprinted bag.
Features:
1.Computer control over the entire process.
2.From film roll to final bag, one process flow.
3.Servo motor, makes it easy to adjust the bag length and the roduction speed.
4.Automatic film feeding, coordination free from tension adjustment.
5.Automatically stop when film feeding blocks or bags jam.
6.High production efficiency to save manpower and time.
7.Equipment with heat sealing and cold cutting device.

Plastic bag machine Technical Parameter :
Model SHXJ-A600 SHXJ-A700 SHXJ-A800 SHXJ-A900 SHXJ-A1000
width of sealing &cutting 580 mm 680 mm 780 mm 880 mm 980 mm
length of sealing & cutting 700 mm 1200 mm 1200 mm 1400 mm 1600 mm
speed of bag-making (pc/min) 240-400 240-400 60-100 50-100 40-100
Number of strip(pc) 4 4 2 1 1
Power of motor(kw) 1.1 1.5 1.5 2.2 3
Weight(kg) 700 850 900 1000 1100
Outine dimension(m) 3.2*1.2*1.7 3.5*1.3*1.85 3.6 *1.5*1.95 3.7 *1.6 *2 3.8 *1.8*2.1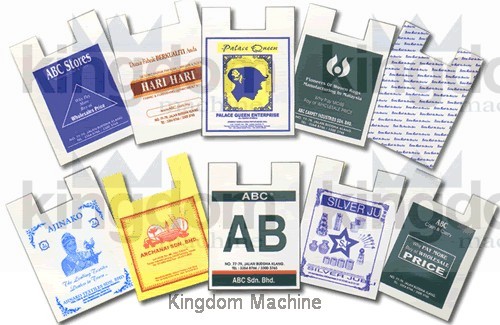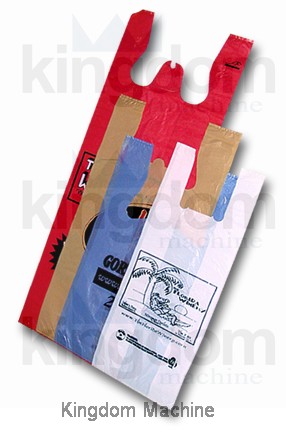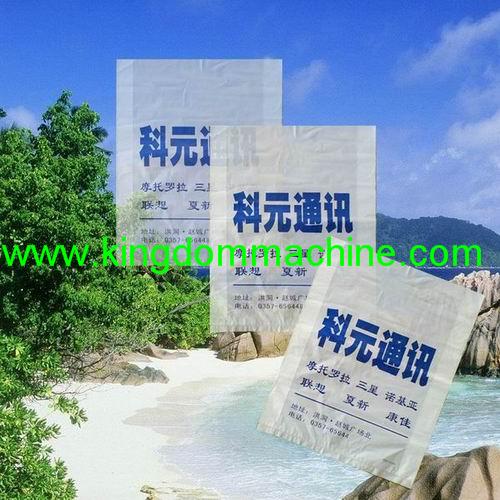 Kingdom Machine co,ltd
Ruian Economic Zone,Wenzhou,China 325200
Mobile:+86-13566179950
0086-13088651008
Tel.:0086-577-65127709
Fax:0086-577-56848008
kingdombillwang@hotmail.com
kingdombillwang@yahoo.com
http://www.kingdommachine.com
http://www.plasticbagmachine.com.ng
Skype:kingdombillwang
Whatsapp/viber/tango:+86-13958812663

Kingdom Machine Co.,Ltd. Is a well established company in the manufacturing of a wide range of plastic nylon bag cutting machine lines including film blowing machine,blown film machine, plastic bag making machine, flexographic printing machine, rotogravure printing machine, stretch film machine,recycle machine, straw making machine and other plastic machines.
Kingdom Machine Factory can supply and sale automatic Polyethylene Nylon T-shirt bag machine,Plastic trash bag machine,sachet water bag machine,blown film extrusion,film blowing machine,flexographic printing machine,rotogravure printing machine,drinking straw machine,stretch film machine to Ghana,SENEGAL, GHANA, NIGER, NIGERIA, CAMEROUN, ETHIOPIA, TANZANIA, ZAMBIA, ZIMBABWE, REUNION ISLANDS, SOUTH AFRICA,Africa.
Our machines are well favoured by customers due to easy operation, perfect performance, easy maintenance good & prompt after sale service. "Kingdom" production team have over 30 engineers,most of engineers have over 15 years produce experience in plastic machine field.
How To Find Polyethelene For Blown Film Extrusion. Extrusion Film Extrusion use Polyethelene,such as Low Density Polyethylene(LDPE),High Density Polyethylene(HDPE) and Linear Low Density Polyethylene(LLDPE),Polypropylene(PP).